Mandela - Blue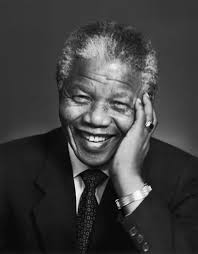 Nelson Rolihlahla Mandela (18 July 1918 – 5 December 2013) was a South African anti-apartheid revolutionary, political leader, and philanthropist who served as President of South Africa from 1994 to 1999.
He was the country's first black head of state and the first elected in a fully representative democratic election. His government focused on dismantling the legacy of apartheid by tackling institutionalised racism and fostering racial reconciliation. Ideologically an African nationalist and socialist, he served as President of the African National Congress (ANC) party from 1991 to 1997.
Mandela served 27 years in prison, split between Robben Island, Pollsmoor Prison, and Victor Verster Prison. Amid growing domestic and international pressure, and with fears of a racial civil war, President F. W. de Klerk released him in 1990. Mandela and de Klerk led efforts to negotiate an end to apartheid, which resulted in the 1994 multiracial general election in which Mandela led the ANC to victory and became President. Leading a broad coalition government which promulgated a new constitution, Mandela emphasised reconciliation between the country's racial groups and created the Truth and Reconciliation Commission to investigate past human rights abuses.