The Kings Academy PTA was established in 2020 with the objective to work together with parents and families of the school, to raise additional funds to enrich the education of all of the children across the primary and secondary phases.
You can contact the PTA on the following email: pta@kingsacademies.uk and the current committee includes:
Amber Patrick - Chair
I have a daughter in Year 1 at KAB and a 2 year old daughter who will hopefully join her at the site, so have a vested interest in ensuring the school is well funded and has the resources to ensure my child(ren) get the best from their education.
Myriel Penoy - Vice Chair
Two of my daughters attend Year 1 and Reception at KAB and, with my youngest joining them in a few years, I am keen to get involved with the fundraising for the school and make sure pupils have all the resources to achieve their full potential at the Academy.
Laura Coe - Secretary
I live opposite KAO with my 2 teenage sons and 2 younger daughters - one who is in Year 1 at KAO and one who is in Nursery at KAB. As a PTA member, I am looking forward to helping arrange events for the children and their families and fundraising for the extras the schools may need.
Lindsey Coff - Treasurer
I have a daughter in Year 1 at KAB and a son wo will hopefully start at the Nursery in September. I have a background in Banking and Financial Services, so I'm really excited to help and support the PTA alongside the wider school community to raise additional funds to give all our children the best opportunities.
---
Upcoming Events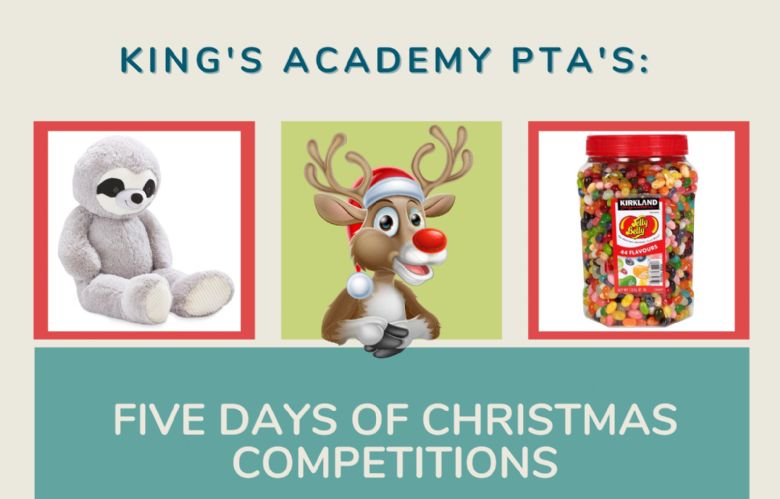 How to enter
Download the form (Secondary / Primary) from below and complete with your answers and personal details.
Place your form in an envelope along with a £4 donation and your bauble design.
Drop your envelope in the competition box at reception
Ongoing Uniform Drive
We have an ongoing second hand uniform sale, so will gladly accept any donations of uniform that is no longer required.
Recent Events
Recent events include a non uniform day / tea towels at Christmas and a huge collection of second hand clothes. It really is sometimes the simplest ideas that can raise the most funds!
Get in touch
Feel free to contact us on pta@kingsacademies.uk. We would love to hear from you with any ideas for new fundraisers you would like to see, please drop an email or message through the Facebook page.
Please do 'like' our page to stay up to date with upcoming fundraisers.